Together with everyday life, today's artistic creations are becoming more and more hybrid. They make use of many media, sources and perspectives, different interactions between physical and virtual identities and are presented on different platforms. They are breaking down barriers between different disciplines and presentation models.
The Hybrid Music Lab (former Studio für Elektronische Musik) offers the surroundings, infrastructure and educational context for such musical endeavors.
---
About
Profile, Equipment and History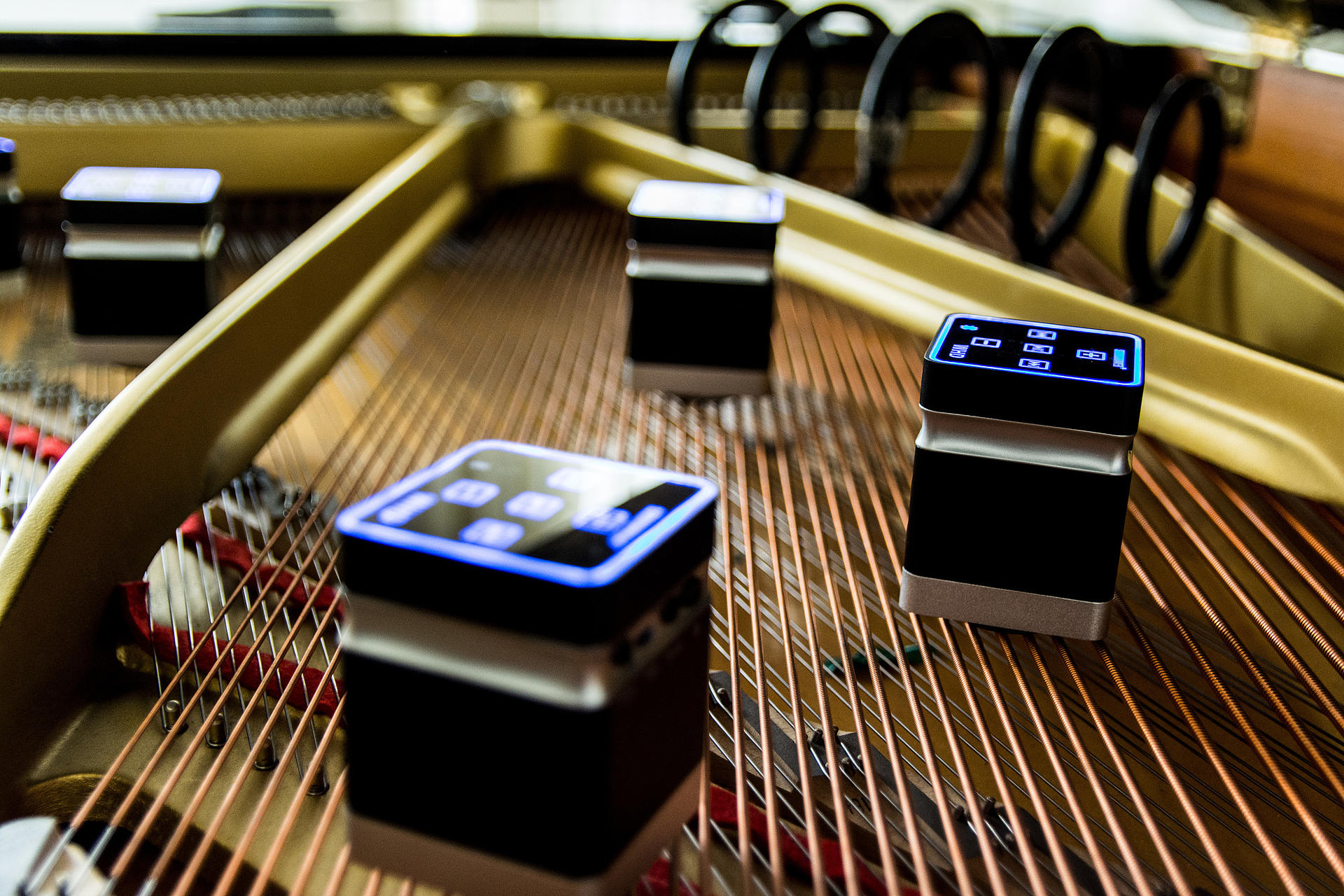 The field of expertise expertise in electronic music is an integral part of the composition studies studies at the Hochschule für Musik Dresden. With teaching hours and student time expense taken into account, this makes it one of the three most important parts of the curriculum – together with individual lessons and elective choices.
During the first two years of the curriculum, lessons include 0,75 seminar hours per week to teach the technical basics. Furthermore there is continuous individual support, focusing on practical realisation of your own compositions, deepening technical understanding where relevant.

After the first 3 years, work in the lab can be continued through electives or project-based. The consecutive composition Master then offers the possibility to select electronics as individual focus, and work on related projects in that area in the lab.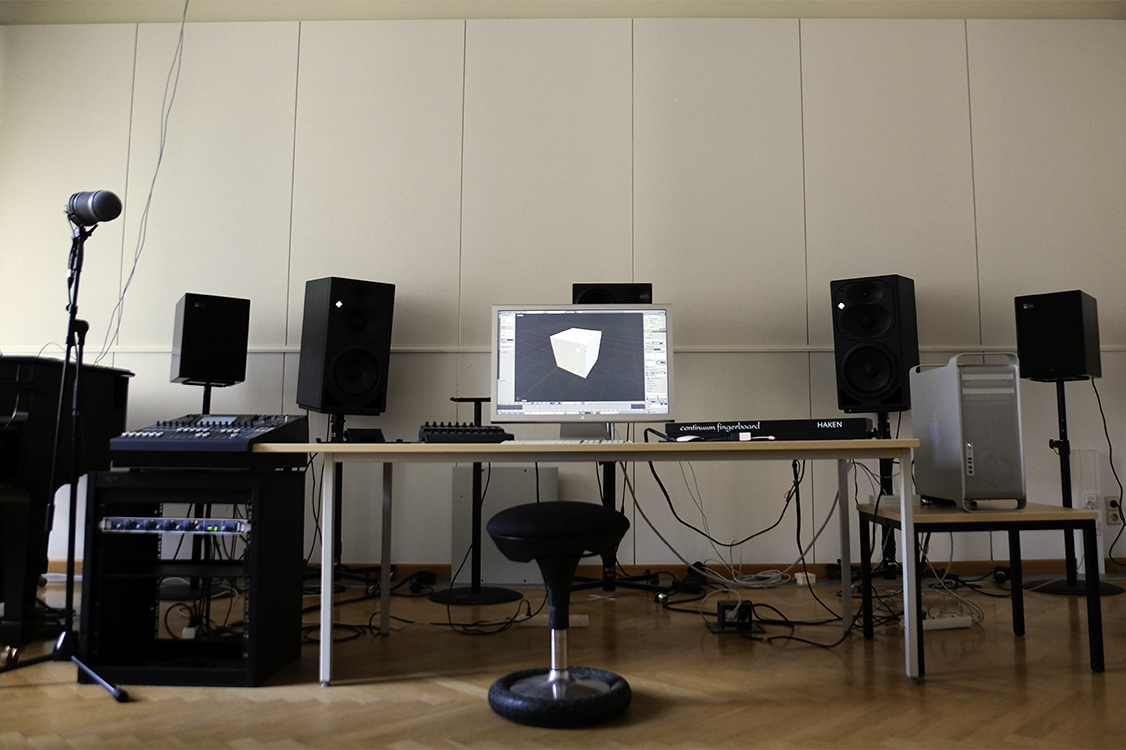 The studio offers a a high quality surround monitoring system from Neumann (KH 420 and KH 310) 310) which delivers detailed audio, even for demanding projects. The equipment reflects the constantly changing modern production environment, with regular additions of novel and useful gear.
In 2020 we will be purchasing high-end video and projection gear.
We are working towards purchasing professional video gear in 2020.
Studio

Mac Pro (pre 2013)
30" Cinemadisplay
RME Fireface 800
Mixer Yamaha DM-1000
Stereo Neumann KH 420
Surround Neumann KH 310
Triple Meyersound HD-1
Yamaha Disclavier
Sonos Force 505 Drumset
Project Space
Windows 10
Intel i6700
Geforce GTX 1080
Fireface UFX
Iyama 24" Dualscreen Setup
Stereo Neumann KH120
Controller
Haken Continuum
Alesis V61
Leapmotion Leap
Acer Windows Mixed Reality
Wacom Graphire4 Classic XL
iPad Pro + Liine Lemur
Essential Reality P5 Cyberglove
Behringer BCF 2000
Behringer FCB 1010
Akai MPD18
Akai MK2
M-Audio Code61
Mics
Rode NT5
Rode NTG 3B
AKG CK91
AKG CK91
AKG CK93
AKG CK98
K&K Bigshot Contact Mic
Shure SM 57
Epiphone Special II Humbucker Pickup

Gear
Rebeltech Owl
Emtec USB DMX Converter
Yamaha DX 7
Electro Harmonix Bigmuff
Electro Harmonix Freeze
Line6 DL4
Boss DS-2
Tascam DA-30
2 E-Bow
Video
3 Logitech C270
1 Blackmagic Intensity Shuttle
2 Orbecc Astra Depthcams

Mobile
2 MacBook Pro 13" (2016)
Raspberry Pi
3 Beyerdynamic DT 770 Headphones
2 Zoom H-6
Fireface UC
Software
Reaper
Logic
Cubase
Ableton Live
Protools
GRM Tools
Waves Diamond
IRCAM AudioSculpt, Diphone Studio, Modalys, OM
Max/MSP/Jitter, Puredata, Supercollider, Processing
Touchdesigner, Resolume Arena
NI Komplete Ultimate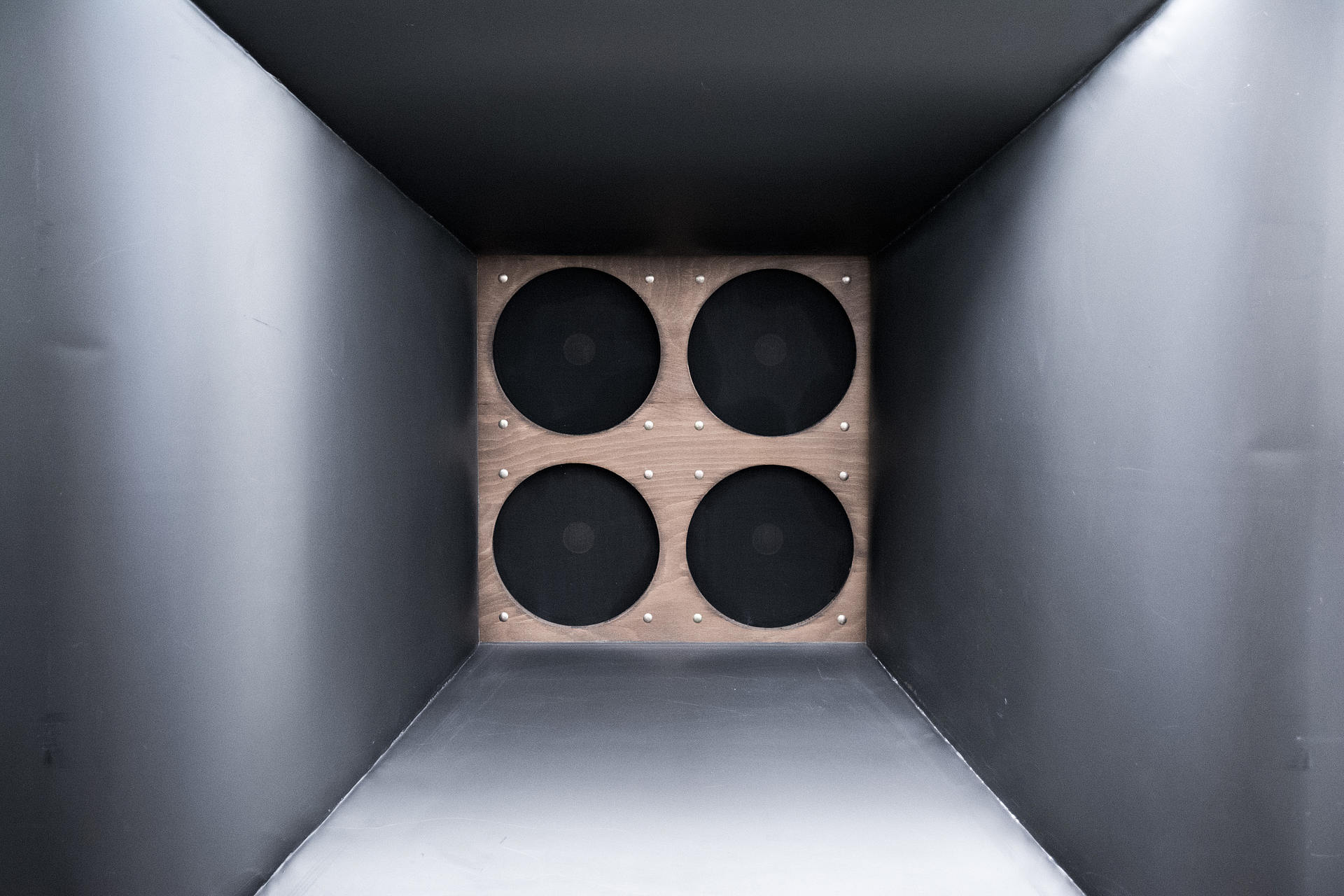 The studio was founded by Friedbert Wissmann in 1984 as a cooperation between the Hochschule für Musik and the Technische Universität Dresden, with the name "Studio and named "Studio für Elektronische Klangerzeugung".Klangerzeugung" initially.
The training was focused on electronic keyboard instruments in connection with computers, while at the same time developing MIDI software for the Commodore C64 and Amiga.
From 1993 until 2006 the studio was led by Prof. Dr. Wilfried Jentzsch. During this time, the aesthetic and pedagogical approach changed. The technical equipment was modernized (to Macintosh and Protools and a more software driven workflow).
In the winter semester 2002/03 the composer Lothar Voigtländer headed the studio temporarily.
After that from 2006 until 2008 Michael Flade stood in for the professorship.
This changed after September 1st 2008, when Prof. Franz Martin Olbrisch started administering the studio until his retirement in March 2020.
The studio is now led by Prof. Stefan Prins.Prins, and the name of the studio was changed into Hybrid Music Lab.
Responsible for the studio equipment/informatics is Dipl. Ing. Christoph Mann.
---
Sound & Fury
Ensembleworkshop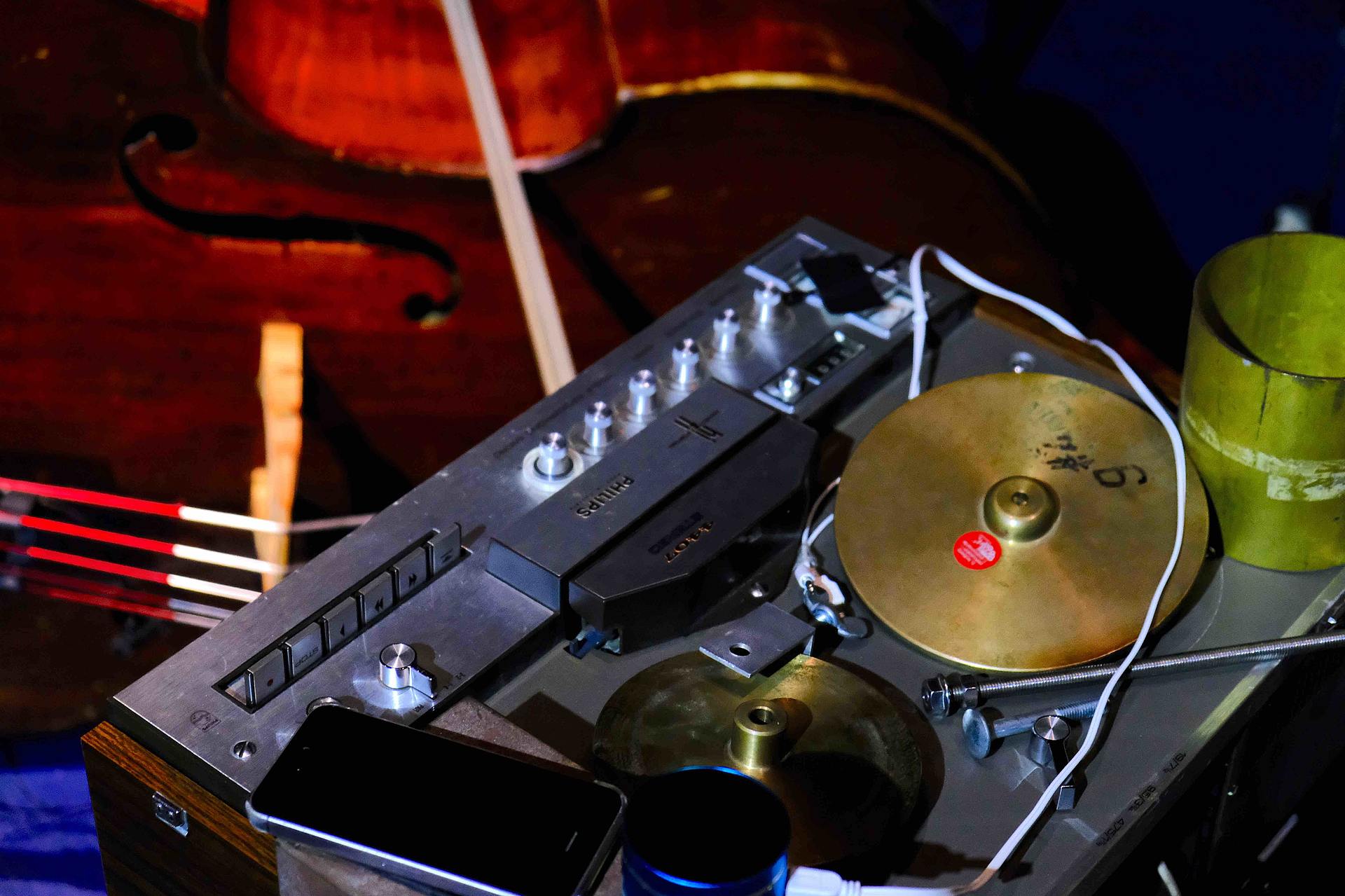 Sound & Fury is a transmedial ensembleworkshop, which takes place every two weeks as a seminar with practical applications, to make music using improvisational strategies.
It's designed as a non-hierachical "playground", enabling composers, performers and singers from all parts of the Hochschule (classic, jazz, pop, rock, opera,...) to come together and make intermedual music, using voice, acoustic or analogue instruments, or selfbuilt digital programs and their hybrid forms.
---
Plattforms
Links to our Online Presence
---
Hybrid Music Lab
Webmaster
Sprechzeit
Dienstag 12:00-12:30