Studying Music in Dresden
Diverse, Individual, Practical
The Dresden College of Music views itself as a place for the cultivation of the music culture in which art, science and instruction in theory and practice are interconnected. There is a lively exchange between tradition and renovation, continuity and experiment. Freedom to experiment, new working methods and artistic research are components of everyday life at the College.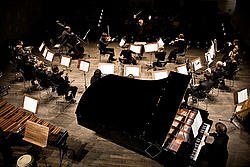 Guaranteed Practice on Stage
Student ensemble projects are concluded in concerts, presentations and sessions in the modern, multifunctional concert hall of the College of Music and on renowned stages of Dresden and the region. An excellent opportunity to attain professional musical practice directly within the context of the traditional education and to gather experience on stage!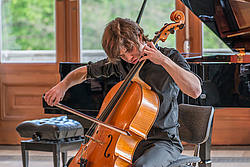 Focus on the Reality of the Profession
The course of studies is centred around the development of an artistic personality with all of its creative potential. The foundation for this is knowledge of the demands of the current music industry. The students develop the capacity to independently create their career path though events focusing on the topic of "Career Start." Prepare yourself for the reality of the profession!
---
Thu, 23.01.20, 19:30 Uhr
Podium Violoncello
Hochschule für Musik Dresden, Kleiner Saal, Wettiner Platz 13, Dresden
Thu, 23.01.20, 20:00 Uhr
84. Vocal Night
Jazzclub Tonne, Dresden, Tzschirnerplatz 3-5, 01067 Dresden
Veranstaltungskalender
Study Music in Dresden
New Image Trailer
Studies
Bachelor, Master and Teacher Training
---