The specialisation Jazz/Rock/Pop offers studies in a wide variety of artistic fields. In addition to the artistic work in the respective main subject, the typesetting and ensemble work is the main focus of the practical vocational training. The aim is to develop an artistic personality with all its creative potential that confidently meets the demands of the current music business. Basis for this is the comprehensive technical and musical training and the promotion of creativity and independence.
---
Céline Rudolph
Artistic Direction 2018/2019
Céline Rudolph übernimmt im Studienjahr 2018/19 die künstlerische Leitung des Bereiches Jazz/Rock/Pop der Hochschule für Musik Dresden. Geplant sind Workshops mit dem US Drummer Jerry Granelli, dem in New York lebenden Dortmunder Jazzvokalisten Theo Bleckmann und dem afrikanischen Balafonspieler Aly Keïta.
Geboren 1969 Berlin, absolvierte die Sängerin und Komponistin zunächst Studien in Rhetorik, Philosophie und Romanistik in Tübingen und Berlin. Ein Jazzstudium an der Hochschule der Künste Berlin (UdK) bei David Friedman, Jerry Granelli und Catherine Gayer schloss sich an. Seit 2003 ist Céline Rudolph Professorin für Jazzgesang an der Hochschule für Musik Dresden. Als Jurymitglied des Bundeswettbewerbs "Jugend jazzt" hat sie ihr Ohr besonders nah am musikalischen Nachwuchs.
Die Künstlerin veröffentlichte zahlreiche CD- und Rundfunkproduktionen, u.a. Brazaventure (enja, 2007), Metamorflores (enja, 2009), Salvador (Verve, 2011). Konzertreisen führen sie regelmäßig durch Europa, nach Brasilien und Afrika. Dabei arbeitete sie u.a. mit Naná Vasconcelos, Gary Peacock, Bob Moses, Bobby Mc Ferrin, Marc Ducret, Moritz Eggert, Gérard Lesne, Lauren Newton, Till Brönner, Dusko Goykovich, Marcos Suzano, Rodolfo Stroeter, Helio Alves, Wolfgang Haffner und Jamire Williams. Für Ihr aktuelles Album "Obsession" mit dem Gitarristen Lionel Loueke erhielt sie erneut den "ECHO Jazz" und wurde für den "Jahrespreis der Deutschen Schallplattenkritik" 2018 nominiert.
---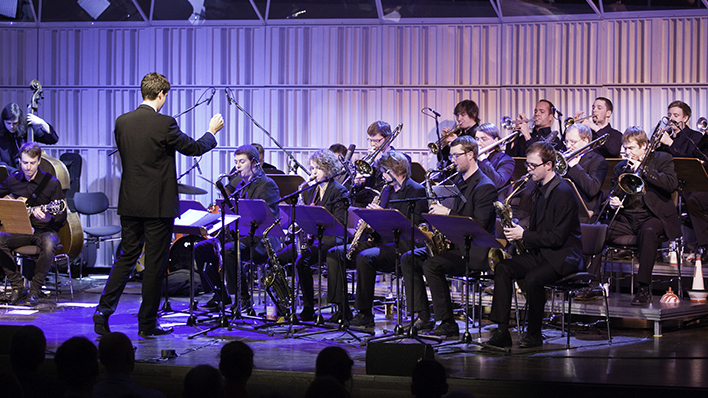 hfmdd jazz orchestra
Teaching of Stage Practice
The hfmdd jazz orchestra is in a certain sense the symphony orchestra of the Jazz/Rock/Pop programme. In addition to conveying enthusiasm for orchestral playing, the primary task is to prepare for the requirements of the profession in musical, stylistic and psychological terms.
hfmdd jazz orchestra
Further Jazz/Rock/Pop Ensembles
---
Subjects
Further Information on the Study Programme
---
Studiendekan Jazz/Rock/Pop
Sprechzeit in der Vorlesungszeit:
Do: 15:00-15:30
Raum W 1.14
Jens Wagner
Stellvertretender Studiendekan Jazz/Rock/Pop
Jazz/Rock/Pop Klavier
Methodik, Improvisation, Ensemble
Contacts for all professors, lecturers and staff can be found here
---
Einschreibung bis zum 23.02.20 für "Next Generation – Jazzworkshop für Jungmusiker und Studieninteressierte"