Institute of Musicians' Medicine
The Institute of Musicians' Medicine (IMM) at the Dresden University of Music Carl Maria von Weber was founded in 2000 based on the intention to target the improvement of the health situation of professional musicians. Teaching, research and clinical work are the primary functions of the IMM:
---
As an essential part of their education, students at the Dresden University of Music attend music physiology courses in which foundations of the physiology and psychology of music-making are taught. Additionally, practical consequences and implications for daily practice are being discussed. Building knowledge in this area aims at overcoming and avoiding difficulties and detours in the practice process, increasing self-confidence in performance situations, and preventing health problems caused by music-making. As an integral part, the University of Music offers a comprehensive program of practical courses addressing musicians' health, including somatic educational methods, body awareness techniques, and sports offers (termed Physioprophylaxis). This extensive variety of resources available to our students was initiated and developed by Ralf-Ulrich Mayer, who has been with the Dresden University of Music for many years.
---
The research section at the IMM is concerned with the scientific investigation of music-making. Specifically, research at the IMM focuses on physiological and neurobiological foundations of music-making as well as of sensorimotor learning processes at the instruments. Special emphasis is placed on identifying optimal conditions for acquiring highly complex motor skills required for music-making. Another interest lies in determining strategies to optimize physiological economy and kinetic efficiency when playing the instrument. Research projects are conducted in close interdisciplinary collaboration, involving instrumental teachers, medical doctors from various disciplines, natural scientists, and psychologists. It is our main concern to incorporate the insights gained from research projects into future educational concepts in music pedagogy.
---
Outpatient clinic for musicians
The outpatient clinic for musicians is open to all students and teachers of the Dresden University of Music. The clinic's main focus is on the diagnostics and treatment of health issues that are either caused by or relevant for music-making. Patients can seek consultation regarding music-related medical problems, music-physiological issues, or performance-related psychological concerns.
The outpatient clinic is associated with the clinical research section of the IMM. Here, we are dedicated to identifying the etiology and phathophysiology of playing-related medical conditions as well as to optimizing diagnostic procedures and therapeutic approaches.
---
Studio for Voice Research
The Studio for Voice Research provides comprehensive phoniatric services specifically for those artists who are using their voice professionally. The unit looks back on many years of medical and phoniatric experience and is an essential part of the IMM.
---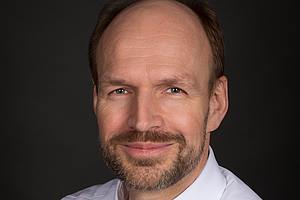 Prof. Dr. med. Dipl.-Mus.
Leitung Institut für Musikermedizin
Assistenz/Sekretariat Institut für Musikermedizin
Institut für Musikermedizin
Leubnitzer Str. 17b (1.OG)
01069 Dresden
Ansprechpartner für Physioprophylaxe und Hochschulsport
| | |
| --- | --- |
| Phone: | |
| Mobile: | +49 177 7219713 |
| Email: | |
Gerard Breaden Madden
Wissenschaftlicher Mitarbeiter Institut für Musikermedizin